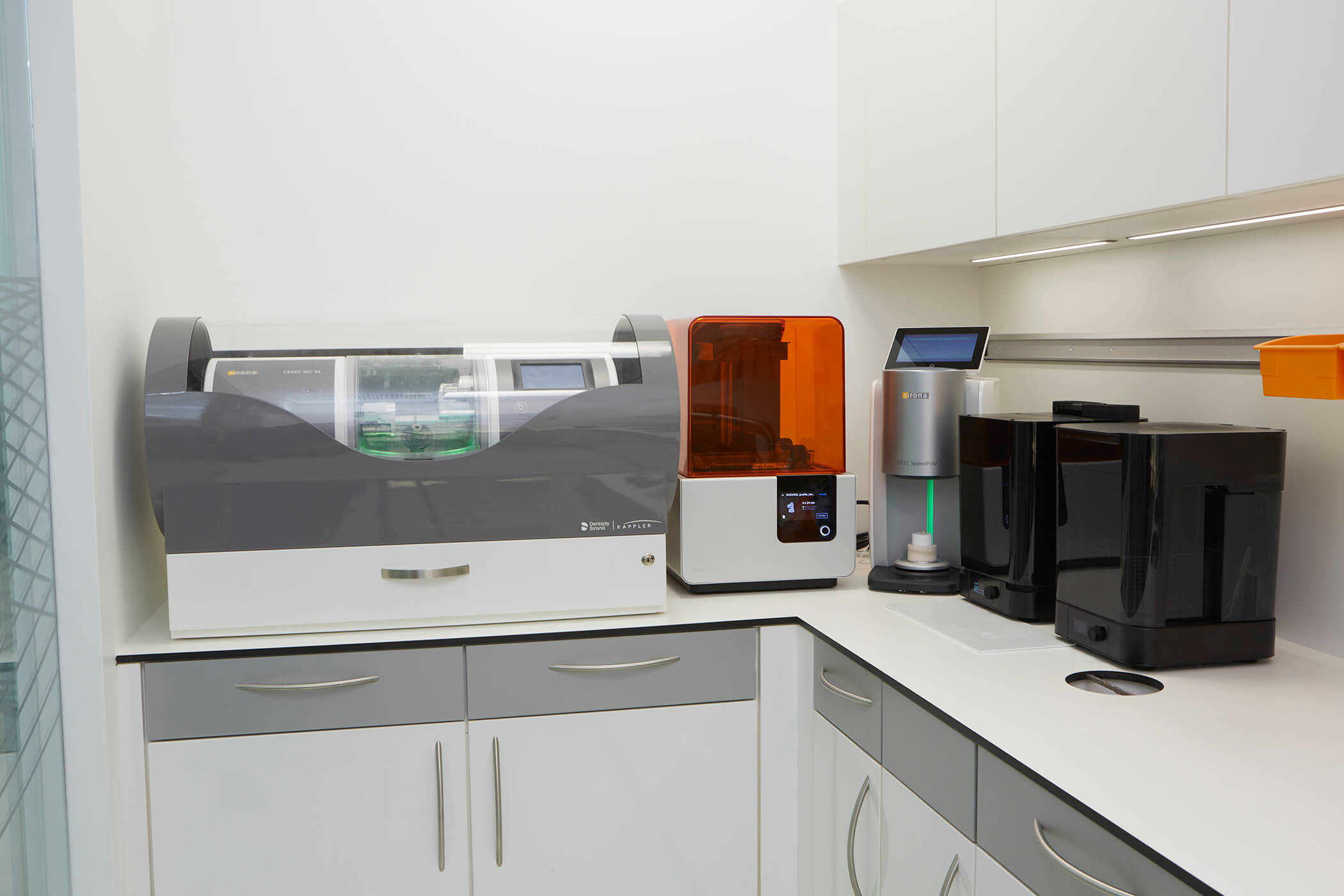 State-of-the-Art Dental Technology in Boca Raton
Providing Our Patients with the Very Best
Our patients deserve the absolute highest quality of care and treatment. In order to promote the healthy smiles our patients should have, we have gone to great lengths to employ dentistry's most advanced technology. The International Center for Advanced Dentistry is one of the world's most advanced clinics, giving our Boca Raton dentist cutting-edge tools to provide the absolute best outcome for our patients.
From state-of-the-art 3D imaging to the ability to make a crown for a patient in a single visit, no detail has been overlooked at our clinic in providing our patients with the world's best dental care in a beautiful and comfortable spa-like environment.
See what a difference our technology makes! Call us at 561-264-4997 today to schedule an appointment.
Sirona Chairs
In addition to state-of-the-art care techniques, we also use the best available dental chairs to ensure a comfortable visit, especially for lengthy procedures. Because we care about the comfort of our patients, we only use the most advanced dental chairs available, so that your appointment will be as pleasant as possible.
Read more about Sirona Chairs
CEREC Restorations
Some people require crowns to restore individual missing teeth. While crowns used to take some time to make and customize, we use the latest technology to make crowns in only a matter of minutes. CEREC machines use highly accurate digital imaging and mapping of the inside of the mouth to create accurate copies of missing teeth in minutes.
Read more about CEREC Restorations
Bio Laser
Soft tissue lasers are one of the most widely used dental technologies. These lasers are just powerful enough to cut soft tissue gently without causing burns or serious harm. These lasers are excellent at breaking up hard calculus and tartar that can't be removed with regular brushing. Lasers have been in use since the 1990s and are a trusted part of our arsenal of advanced tools.
Read more about Bio Lasers
Digital X-Rays
X-rays are an essential part of the dental care process. They are used to diagnose issues that can't be seen with the naked eye. Getting these done annually will help your dentist to keep your health in check and make sure there are no serious issues. Digital x-rays are an improvement on the previous film-based copies, so dentists get your results faster and in higher definition than before. Using this technology, we hope to make more accurate diagnoses and get your solution planned out much faster.
Read more about Digital x-rays
Intra-Oral Scanners
The latest scanning technology is able to take highly detailed scans of the inside of your mouth, ruling out uncomfortable paste impressions of the past. Intra-oral scanners are the best way to take accurate 3D images of your teeth so that properly fitting crowns and prosthetics can be made. Using lasers gives us the most precise possible assessment of the shape of your mouth, so our team can make better decisions to improve your oral health. Here at the International Center for Advanced Dentistry, we use the highest-level technology available, including Omnicam for crowns, and iTero for Invisalign.
Read more about Intra-Oral Scanners
CBCT
Cone Beam Computed Tomography is an imaging technology and offers one of the most advanced ways of taking three-dimensional scans of the inside of the mouth to ensure that implants, braces, and other solutions can be made as accurately as possible. These machines are accurate enough to take images of the nerve pathways so that invasive procedures like root canals can be done with less pain.
Read more about CBCT technology
Computerized Anesthesia
Using this revolutionary new technology, painful anesthetic injections are a thing of the past. A computer can measure the right amount of anesthetic and deliver it evenly, to minimize discomfort. This takes the guesswork out of the equation so that an exact dose is applied every time. The injection is done automatically, with the aid of the dentist.
Read more about Computerized Anesthesia
Computerized Bite Analysis
Computerized bite analysis involves using a digital pressure plate to determine where your bite is weakest and strongest. This allows your dentist to determine which areas need to be leveled so that you can bite evenly. This makes our ability to asses your bite pattern much more accurate, so we can make better leveling decisions in the dental chair.
Contact the International Center for Advanced Dentistry today to begin with a free consultation! (561) 922-0052